Examination Results & OFSTED

Ely College opened as a new academy in July 2016. We are so proud to announce that CMAT as it was then and Meridian Trust now has taken us on a transformative journey with Ofsted rating us in June 2019 as a 'Good Provider' with 'Outstanding' features.
Open the attachment to view the school's latest Ofsted Report: FINAL REPORT JUNE 2019
The letter that went home to parents can also be found here.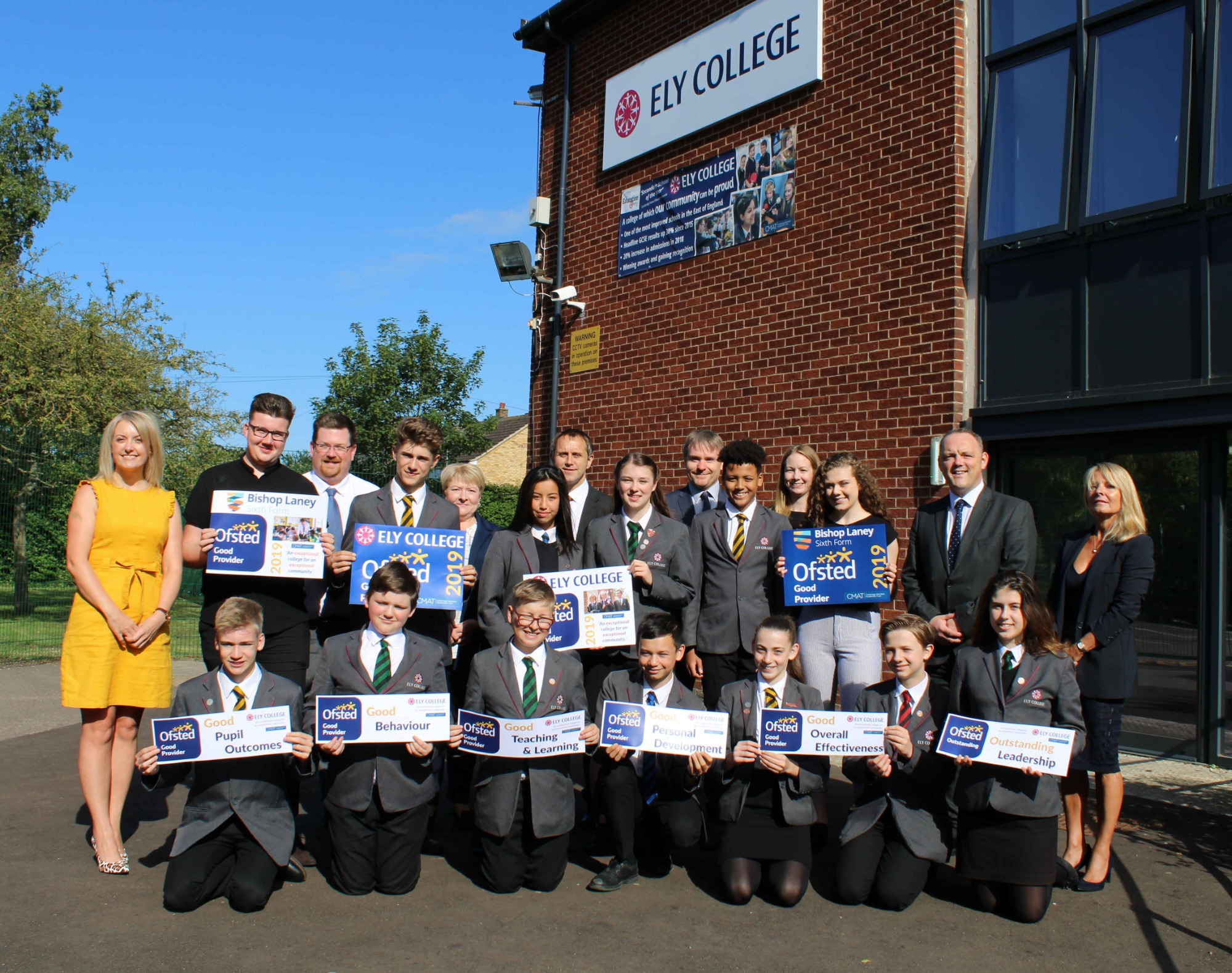 The exam results for 2019/20 and 2020/21 were not published as performance measures, therefore we are required to publish the 2018/19 examination results and DfE School and College Performance Tables Service. These results are not current and do not reflect the progress and attainment seen over the past two years. The tables and results can be found here.
A copy of the Exam Policy and Contingency Plan can be found here
Destinations
Validated 2018/19 Yr11 Leavers Data
| | | |
| --- | --- | --- |
| | Number | Percentage |
| Number of pupils | 195 | |
| Pupils staying in education for 2 terms after KS4 | 176 | 90% |
| FE College | 43 | 22% |
| School Sixth Form – state funded | 72 | 37% |
| Sixth Form College – state funded | 61 | 31% |
| Other education destinations | 0 | 0% |
| Pupils staying in apprenticeships for at least 6 months | 7 | 4% |
| Pupils in education or apprenticeships that were not sustained for 2 terms | 8 | 4% |
| Pupils not captured in education or apprenticeships (destination unknown or in employment) | 4 | 2% |
Unvalidated 2019/20 Yr11 Leavers Data
| | | |
| --- | --- | --- |
| | Number | Percentage |
| Number of pupils | 245 | |
| Bishop Laney Sixth Form | 68 | 28% |
| Long Road Sixth Form College | 68 | 28% |
| Cambridge Regional College: Cambridge campus | 35 | 14% |
| Hills Road Sixth Form College | 32 | 13% |
| College of West Anglia | 17 | 7% |
| Other post-16 centres in Cambridgeshire | 7 | 3% |
| Apprenticeships | 7 | 3% |
| Other | 8 | 3% |