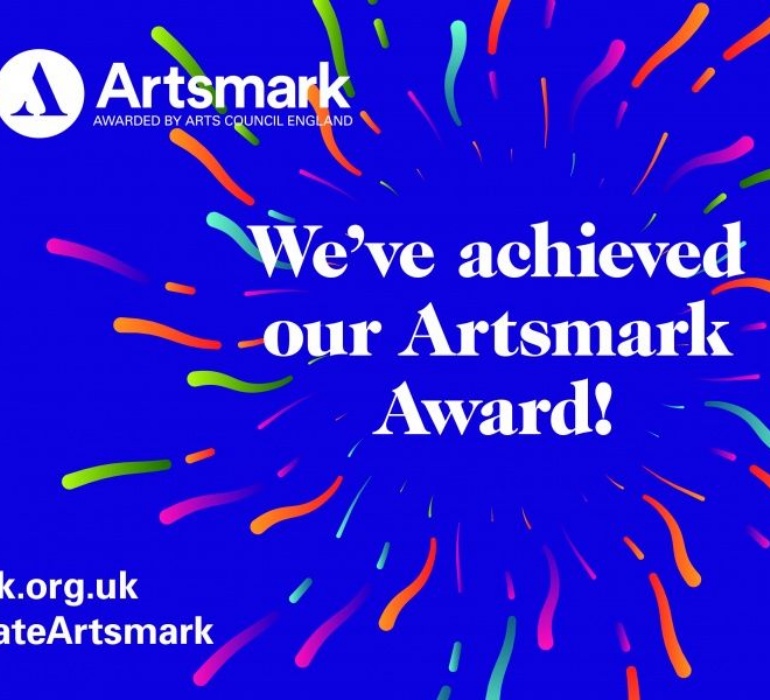 Pupils and staff at Ely College are celebrating after receiving a prestigious Artsmark Award.
Artsmark is the only creative quality standard for schools, accredited by Arts Council England. It supports them to develop and celebrate arts and cultural education across the whole curriculum, bringing learning to life for children and young people.
In order to achieve their Artsmark Award, Ely College had to develop their arts and culture provision to embed a broad and balanced curriculum. This was achieved by creating an overall plan that was committed to and delivered across the whole school.
Ely College was supported by Festival Bridge in planning and developing their objectives. Festival Bridge (https://nnfestival.org.uk/festival-bridge/) worked alongside the school at various stages to support their Artsmark Award achievement.
The Artsmark assessor commended Ely College on not only their outstanding art, music and drama departments but their cross curricular provision and impressive creative Design and Technology environments.
They also noted that well established community partnerships, such as those with the Babylon Gallery, were a launch pad towards Gold: 'Pupils access a consistent range of experiences with local artists and arts organisations in and out of school which leads to showcasing within school and the immediate community. This has continued through lockdown with pupils having the opportunity to see digital performances, perform in virtual concerts and work in bubble ensembles'.
On receiving the award, Principal Simon Warburton said: "We're extremely proud of achieving our Artsmark Silver Award. We are committed to delivering a high-quality arts and cultural education and we look forward to continuing to grow with Artsmark.'
'This award demonstrates our clear commitment to the value of arts experiences and education for our students and the wider community. The launch of our whole college show in the Autumn term is one of many activities that will enable us to work towards the Gold Artsmark.'
Dr Darren Henley OBE, Chief Executive of the Arts Council, said:
"I would like to congratulate Ely College on their Artsmark Award. Becoming an Artsmark school demonstrates that through offering a broad, balanced and creative curriculum, young people have the opportunity to develop character and resilience, increasing their knowledge, curiosity and skills that will remain with them through to adult life."