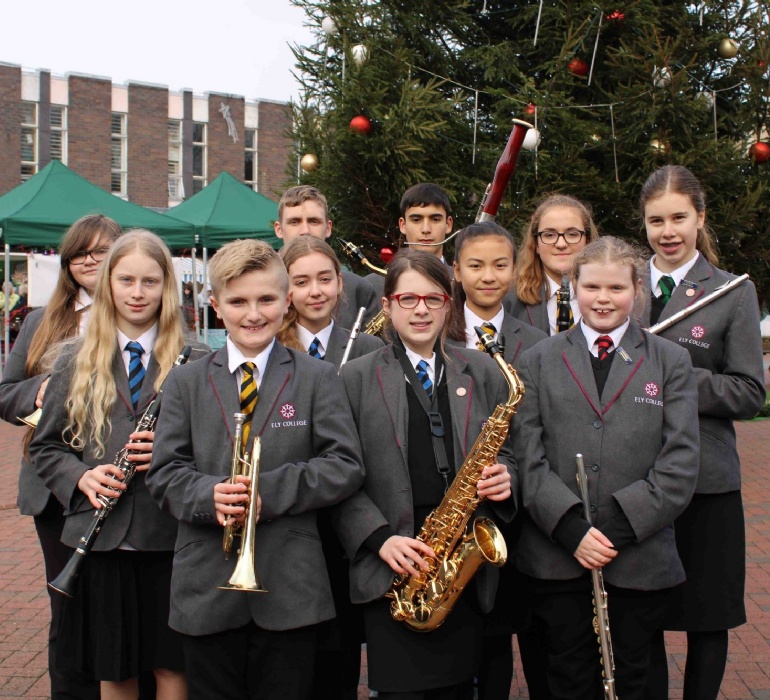 Royal Visit to Ely
Last Tuesday, braving sub-zero temperatures and Arctic conditions, the musicians of Ely College met HRH Prince Charles and his wife Lady Camilla, Duchess of Cronwall during their visit to Ely.
Musicians from Ely College, joined by pupils from Ely St Johns and Rackham Primary schools entertained the crowds as they waited to catch sight of the city's Royal guests.
Our school woodwind and brass ensembles really did a fantastic job, especially considering the harsh conditions. Musical instruments become significantly more difficult to play in extremes of temperature and Tuesday was no exception. Together with chilled fingers and the biting wind even the most stalwart of professionals would have called it a day… but not the musicians of Ely College! They not only stayed but also played and did so very well indeed. They were a credit to themselves and to the school; their families should be very proud.
HRH Prince Charles spoke to two of our musicians, Eloise Barter and Zoe Ayres, marvelling in their hardiness and ability to play so well in such cold conditions. He thanked our musicians for their excellent music, which was a compliment well deserved. HRH the Duchess of Cornwall shook the hand of Isabel Simper to both thank and congratulate her and the rest of the ensemble.
It was certainly a day to remember.