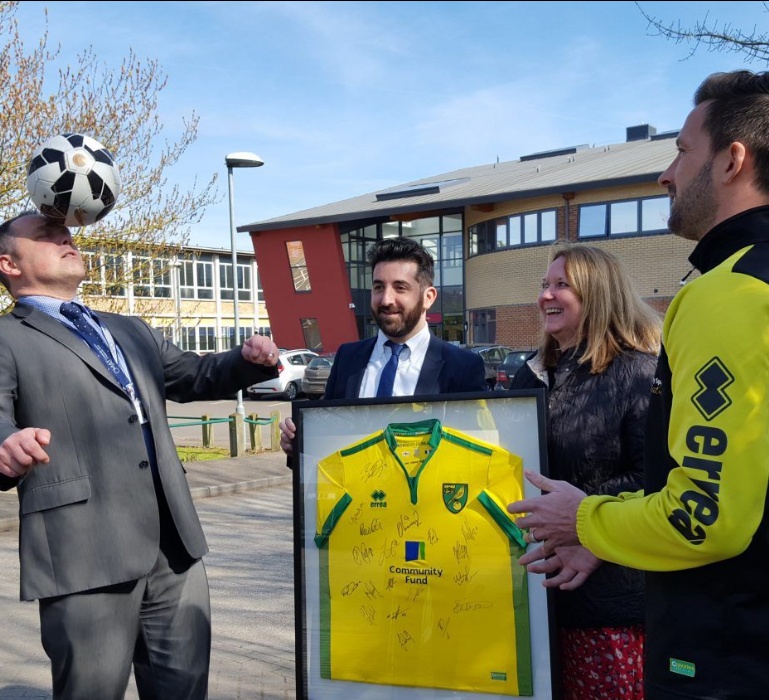 Ely College &The Norwich City FC Regional Development Programme Launch Official Partnership.

CMAT School, Ely College & Bishop Laney Sixth College, have continued their strong link with the Norwich City FC Regional Development Programme for Cambridgeshire, by officially being unveiled as a new Community Hub Partner, which will provide exclusive benefits to the College & wider community of Ely.
Following on from the successful first 18 months of the Boys College Football programme at Bishop Laney, both parties have continued their engagement opportunities for the pupils through a variety of curricular & extra-curricular activity delivered at the school by RDP staff to support their students & provide pathways through sport and education.
The introduction of the Girls College Football Programme for September 2017 continues to provide further opportunity and diversity within the College and brings together an accompanying ethos of 'providing opportunities for everyone'.
Alex Kaufman, the RDP Development Officer for Cambridgeshire commented on the partnership:
"We are delighted to officially confirm the Norwich City FC RDP partnership with Ely College & Bishop Laney Sixth Form, and with the Colleges ownership through CMAT, we have already seen a clear increase in the opportunity provided for the young people of the school and the surrounding areas. We will continue to provide Ely College & Bishop Laney Sixth Form programmes and projects that will support the growth of their pupils in sport, further education and careers and look forward to working closely with the Head teacher, Richard Spencer and his team of dedicated staff".
Richard Spencer, Head of Ely College, said:
"It's great we've been able to build upon the excellent relationship forged with Norwich City FC Regional Development Programme. This opportunity widens the net for more students to benefit from our high standards of teaching and support within our vibrant Sixth Form. We are very excited with this new initiative enabling students to broaden their skills, try out new activities and, above all, enjoy their learning".
As part of the launch, ex Norwich City FC Club Captain & Community Ambassador, Adam Drury, attended the launch event and also spent some time speaking to the students about his journey into the First team, and gave an insight into how they can progress and what is needed to become successful.
For further information on the courses on offer at Ely College & Bishop Laney Sixth Form, contact spatman@elycollege.co.uk and for further information on the Norwich City FC Regional Development Programme for Cambridgeshire, contact Alex.Kaufman @canaries.co.uk
Read more here. Photos: Spotted in Ely