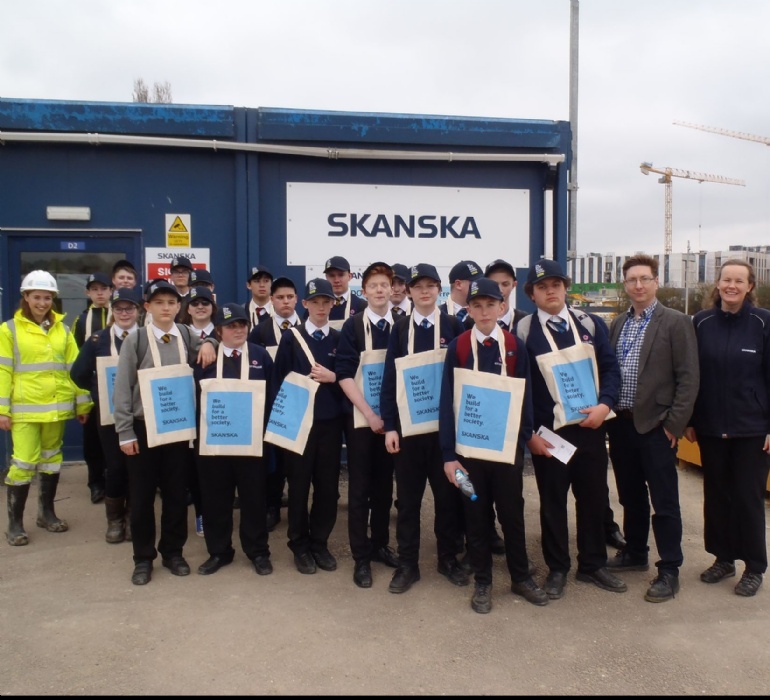 Helping to attract the next generation of construction workers
Students from Ely College were invited to attend the North West Cambridge Development construction site and learn from contractor Skanska about the wide-variety of career opportunities available in the construction industry.
Skanska is working on the North West Cambridge Development as the site wide infrastructure contractor, which will create a new district in Cambridge with homes and community services for the area.
Over 20 Year 9 students and four teachers took part in a tour of the development. The students are currently studying construction and engineering courses run by Ely College.
David MacKintosh, who teaches design and technology, at Ely College, said: "This was a fantastic opportunity for our students to experience what it is like to work in the construction and engineering industries. We are excited to be working with Skanska to give our construction and engineering students the chance to enhance their learning experience by visiting the North West Cambridge Development.
"As part of college's 14 to 16 curriculum, we value vocational courses as they can lead into apprenticeships, closing the much talked about skills gap. Links with industry leaders such as Skanska help bring the real world into the classroom and can expand the classroom into other environments."
Sandra Nicholls, Public Liaison Officer, at Skanska, explained: "We recognise that we need to attract more people into the industry to fill the current skills gap. To do this we need to change people's perceptions of our industry and demonstrate the wide range of career opportunities it has to offer.
"Our purpose is to build for a better society and we do this by delivering some of the country's biggest construction and infrastructure projects that make a positive difference to the communities surrounding them, like this project and Papworth Hospital in Cambridge."
The day concluded with a presentation from Skanska graduates who explained how they became part of Skanska's graduate scheme, its benefits and the positive experience they have had so far.
The North West Cambridge Development will open in phases throughout 2017. For more information visit, nwcambridge.co.uk