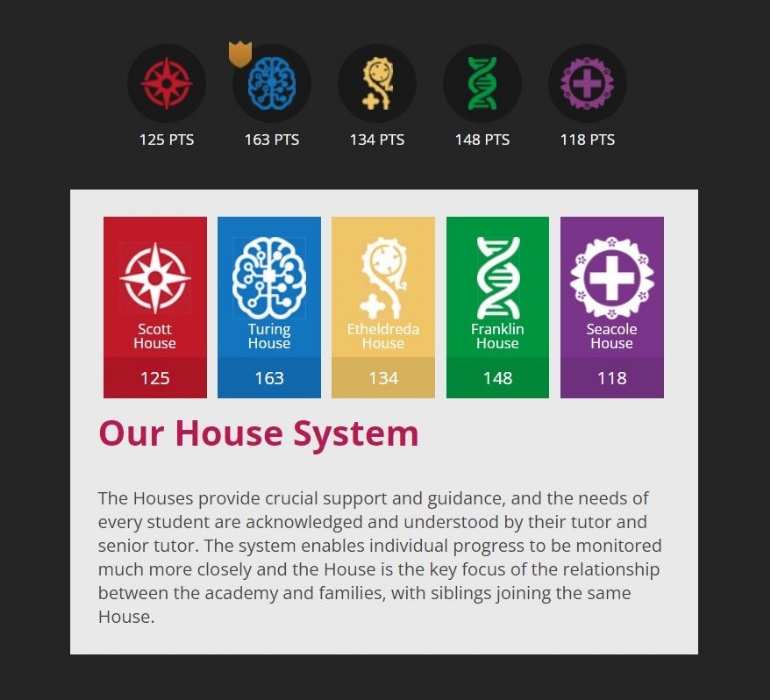 Super League Final Half Term Standings
This will be the last weekly update of the academic year! All Houses can mathematically still finish in the top position: So there is lots still to play for.
During the final half term we will promote activities and send out encouragement but in the interest of keeping things interesting there will not be a weekly update.
This half terms additional events will include:
Interhouse rounders
Sports Day (Heavily weighted)
Subject Awards Calculation: Number of awards given to house students across the termly recognition process.
A continued focus will be on:
Attendance: Ely College remains the BEST in Trust and one of the highest in the county.
PLEDGES: 634 achieved in total this year.
HOUSE points: 114,570 have been awarded to students to date at an average of 74 a student.
Please share with students and encourage them to do all they can to push their houses up the leader board!
| | | | | | |
| --- | --- | --- | --- | --- | --- |
| Half Term Standings | Etheldreda | Franklin | Scott | Seacole | Turing |
| Total Points | 26 | 22.5 | 25 | 19.5 | 34.5 |
| Standings (Lowest points) | 2 | 4 | 3 | 5 | 1 |
| | | | | | |
| | | | | | |
| --- | --- | --- | --- | --- | --- |
| Overall Standings | Etheldreda | Franklin | Scott | Seacole | Turing |
| Total Points | 133.875 | 147.875 | 125.3 | 117.5 | 162.875 |
| Standings | 3 | 2 | 4 | 5 | 1 |