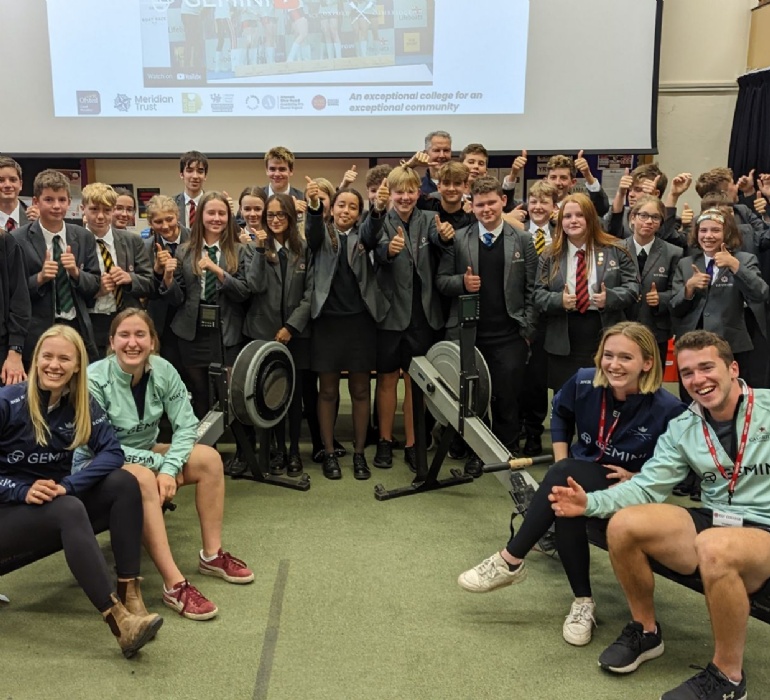 On Wednesday 21st September, Ely College welcomed representatives from both Oxford and Cambridge University Boat Clubs and The Boat Race Company (BRCL) for a day of workshops, competitive training exercises and inspiring conversation.
The College, which is part of Meridian Trust, prides itself on extending the boundaries of learning. Principal of Ely College, Simon Warburton said "our vision is to provide an education that's inspiring and equips students with the skills they need to succeed beyond the classroom and today has been a perfect example of that."
Mr Coe said "I'm thrilled that we've been able to offer this opportunity to our students and I'd like to thank everyone who's been involved in making today happen. I'm also delighted that our ongoing partnership with local rowing club, Isle of Ely is proving so successful. Over 180 students so far, have been able to try rowing, thanks to this partnership. Rowing is a sport that most students wouldn't have ever considered before, so it's a wonderful opportunity."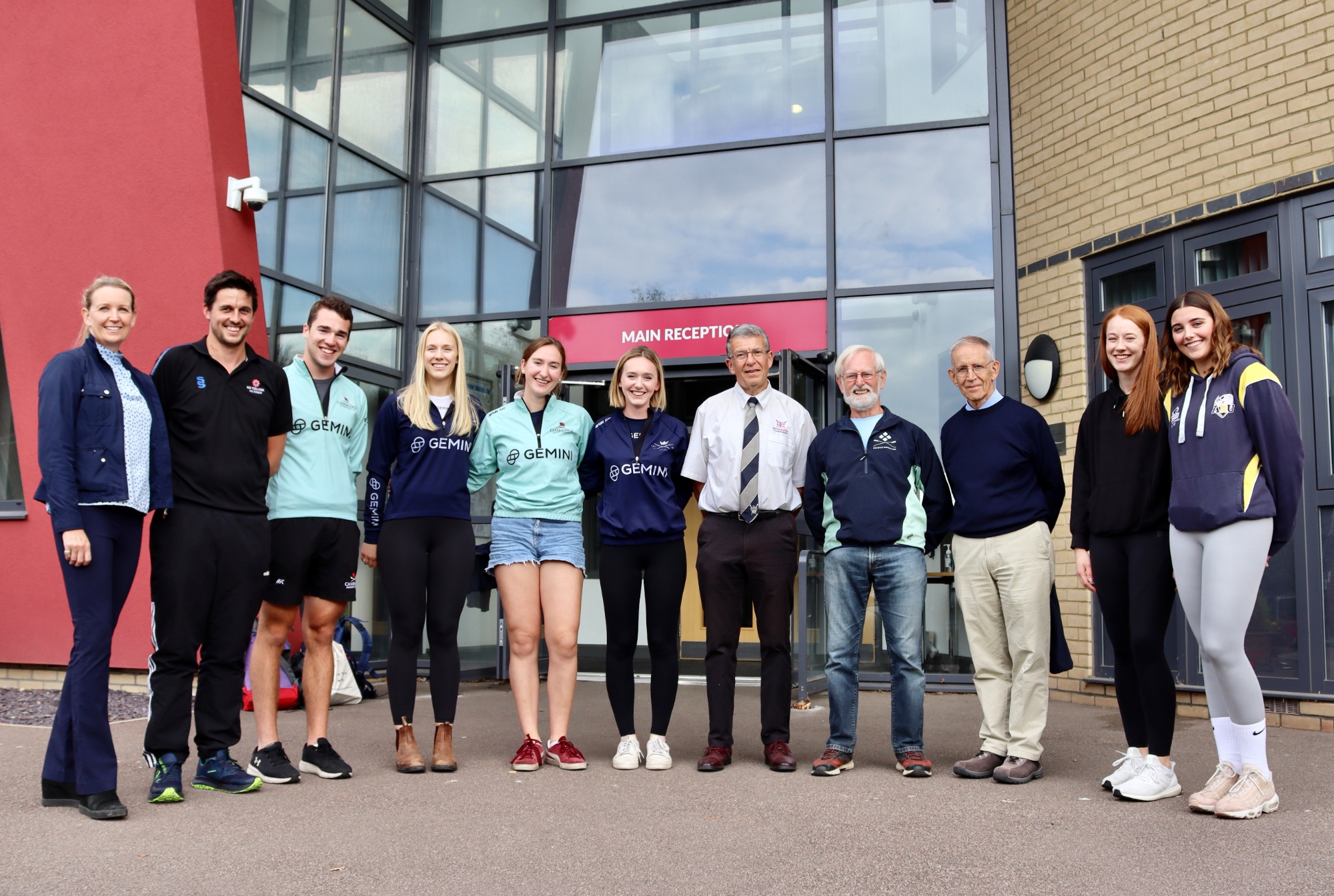 As part of the day, student athletes from Oxford and Cambridge Boat Clubs ran interactive workshops, covering topics, such as achieving a balance between academia and sport and lessons to be learned from success and failure.
Alannah Burdess is a Classics Undergraduate at Oxford University and a Cox for the University Boat Club. "It's fantastic that students at Ely College are being introduced to rowing at a relatively early age. My advice to them? Keep going and most importantly, remember to have fun. Even at a competitive level, we always try to have fun. Being active every day and working towards a common goal with the squad has undoubtedly had a positive effect on all aspects of my life, so it's great to be able to share my rowing journey with these students and hopefully inspire them to find a passion for the sport"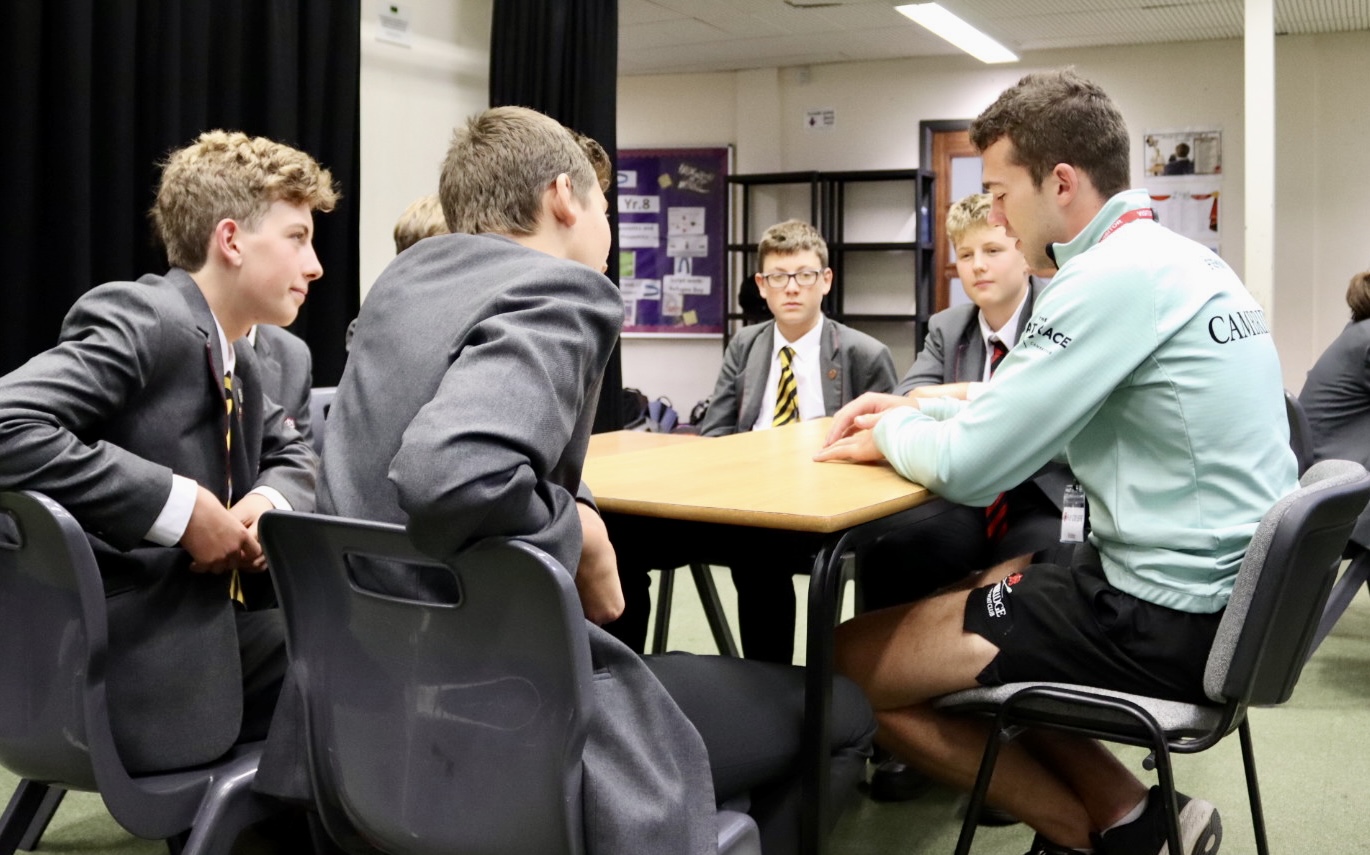 The Boat Race Bursary, funded by Gemini has been awarded to the college, enabling Assistant Principal, Jason Coe and his team to immerse students in a sport which has historically been perceived as financially, physically and even mentally inaccessible to most.
Furthermore, thanks to a partnering programme with the local rowing club, Isle of Ely, students have been able to access regular expert coaching and use rowing equipment from the club.
Athletes included Cam Spiers, CUBC (Goldie 2021, 2022)
Elena von Mueller CUBC (Blondie 2021, 2022)
Julia Lindsay – OUWBC Student Athlete (Blue Boat 2021, 2022)
Alannah Burdess - OUBC
Siobhan Cassidy, Board Member of The Boat Race Company Limited and stroke seat of the winning Cambridge Blue Boat 1995 said:
"The Boat Race Bursary, funded by Gemini, is delighted to support Ely College Rowing Club under Jason Coe's inspirational leadership. The collaboration between Isle of Ely Rowing Club, Ely College and the British rowing community makes this project incredibly special.
"We founded the Bursary to drive projects just like this one. We believe that sport can build a better future for all. We support coaches, leaders and experts in the heart of their local communities to open our sport up to young people who may have never considered rowing before. We would like to thank Gemini for funding this valuable work.
"Oxford and Cambridge athletes swapped stories with the Ely College rowers about their shared experiences both in and out of the boat. We came away from today feeling inspired. It reminded us of how we started out on our own rowing journeys and how far that experience has brought us, together. We look forward to sharing the water with this new generation of junior rowers."
A spokesperson for Gemini said:
"The projects we have chosen to sponsor provide life-changing opportunities to make sport and rowing both inclusive and accessible to young people who would otherwise be excluded. The popularity of the sport has grown tremendously over the years, and we are excited to help grow the sport further by bringing it to a more diverse and inclusive audience."
Ely played host to the 2021 Oxford-Cambridge Boat Race, due to concerns over social distancing amid the Covid-19 pandemic. This was the first time the iconic race had taken place outside of London since the Second World War and this lasting partnership shows the legacy of this event in inspiring a new generation of rowers in Ely.
To find out more about Ely College, please visit: www.elycollege.com.
Photo Captions:
Student Athletes, Boat Club Company & Ely College Staff
Cam Spiers – student athlete for CUBC talks to Ely students about his rowing journey
Alannah Burdess – Student Athlete for OUBC, overseeing the Erg race
Group photo of all involved in the day