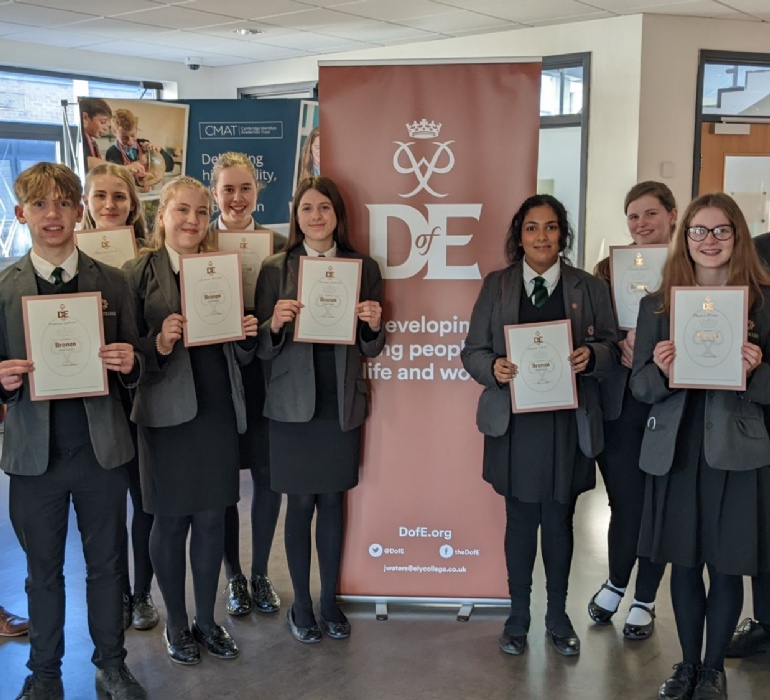 Following what has been a difficult couple of years, Mr Waters was delighted last week to have awarded so many Bronze DofE awards to our Year 11 students at Ely College.
Coronavirus has closed campsites and prevented face to face training sessions from taking place but these students in Year 11 have overcome barriers to achieve their award as well as focus on their upcoming GCSEs.
The Duke of Edinburgh Award scheme lasts for a lifetime as it imparts skills and builds character in our young people. Employers reference the Duke of Edinburgh programme favourably and Colleges and Universities look upon the challenges of the scheme as a reflection in the young people who rise to them.
Our Year 11 Bronze award winners this year are a real credit to the college. They were fantastic on the expedition weekend back on October half term and throughout the year when completing their Physical, Skills and Volunteering sections.
Ely College is keen to build on the success we've had in offering the DofE and looks to roll this out to more students each year! Currently, students in Year 10 can access the Bronze award scheme, and we are seeing record numbers take part.
For now, we look forward to handing out more certificates to our Year 11 cohort shortly, and hope in the future we will be able to extend this scheme; maybe even introduce the Silver Award scheme in college!
Mr Waters commented: "I am particularly keen that no student in the college is left behind; we can support students with disabilities to complete the expedition and offer a package of support our pupils to ensure they can access the scheme including kit hire. At Ely College, we believe in extending the boundaries of learning, achievement for all and pursuing excellence, in fact all our core values can be found in the Duke of Edinburgh Award."