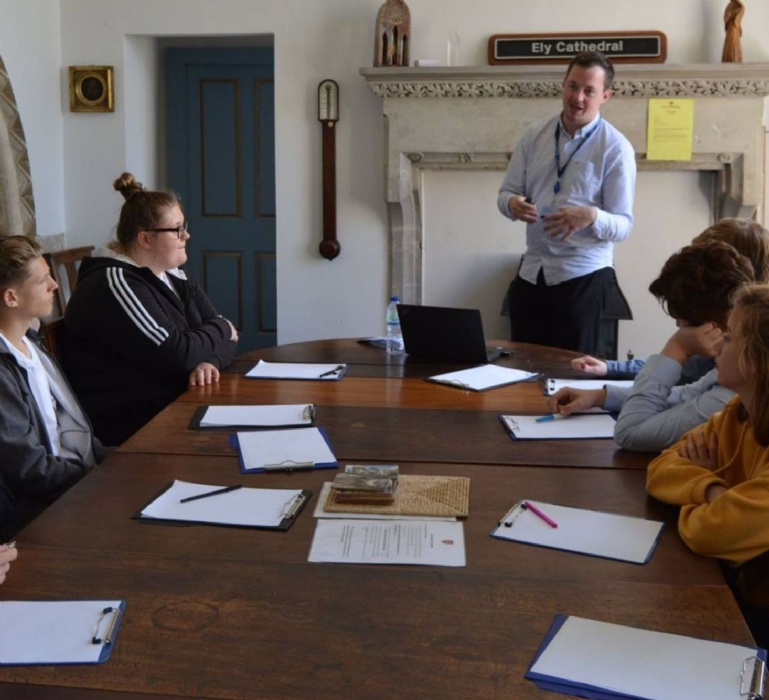 Student Mentoring: Could you inspire a lifetime of ambition?
Bishop Laney Sixth Form, near Ely, is focused on preparing students for a professional life. Every course offers professional relevance and each student will have the opportunity to be supported by a business mentor from the local community which we manage.
Could that mentor be you?
Bishop Laney Sixth Form have partnered with Ely Cathedral Business Group to recruit professional and inspiring men and women to provide 1:1 or group support for these motivated, yet impressionable young people.
Imagine how you would feel building a strong, trusting relationship with a young person that you know will make a very real difference to their life.
A business mentor is in a privileged position. You act as an advocate for your mentee, working alongside the teaching staff: understanding your mentee's motivations and interests; firing ambitions; setting targets and providing advice on how to achieve them; guiding and advising about possible career options and the different routes that might be taken to secure them. After training, you will also help nurture the skills they need to land that all-important first job: interview skills, support with CV writing and advice on how to secure work experience.
You will give a great deal, but you will also gain a great deal in terms of personal development and especially the tremendous feeling of 'giving something back' to the community in which you live. The outcomes we look for, and usually achieve, are an increased awareness of progression routes, greater confidence to pursue goals, and higher levels of engagement with learning- as evidenced by improved progress. You do not give academic advice (that's the teacher's job), just supportive.
The programme is managed through the Bishop Laney Sixth Form by Belinda Lennon, blennon@bishoplaney.org, in partnership with Ely Cathedral Business Group. It will be in place for our Year 12 students, although there may be some Year 13 who have missed the opportunity because of the COVID pandemic.
July - September: Complete the registration form, get in touch and let us know you want to be involved.
September - December: You will provide a profile that will allow us to match you with the most appropriate student (matching criteria such as shared interests and passions). You will also be DBS checked to ensure we met our Safeguarding requirements. We will match you with a mentee. In November/December you will receive professional training to equip you with the skills you need to engage with young people; safeguarding issues and how to deal with any challenges that are likely to arise.
January - December 2022: Depending on the COVID situation prevailing you will spend either 1 hour a month in College or on-line with your mentee if you are involved in 1:1 mentoring or take part in a group mentoring session. Bishop Laney will facilitate all meetings and be available to deal with any questions or issues you may have. You will not have any contact with your mentee outside of college hours.
Next steps
To register your interest, please complete our short form via the button link below.
→ REGISTER YOUR INTEREST IN BECOMING A STUDENT MENTOR
If you would like to find out more, please email Belinda Lennon at blennon@bishoplaney.org or call us to discuss the opportunity on 01353 652818.