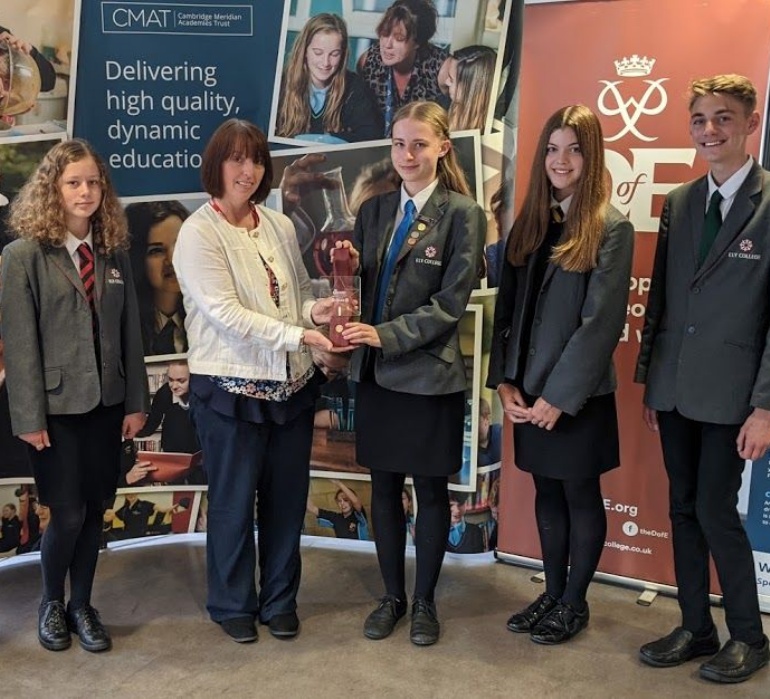 Earlier this month, four exceptional students were nominated for the inaugural Mark Cooney Community Spirit Award at Ely College. As the end of the summer term fast approaches, Ely College has taken this time to reflect; it has been a challenging year for us all, but in dark times we continue to see bright sparks of hope in our young people. These sparks can ignite and bring us together as a community and this new award acknowledges their actions and commitment. On Thursday we were so pleased to welcome Mrs Alison Cooney into school to meet with the Principal and our four nominees, asking her to present on Mark's behalf the award to its first winner, Poppy Lawrence from Turing House.
Our thoughts and support continue to go out to Mark's wife and family. Our annual Presentation Evening, sadly cancelled this year, was something he supported year after year, and we are so very sorry to hear of his passing before he could present this award himself.
The award was created in recognition of his positive effect on our community and the support he offered the College. He led by example with kindness, talent and an enterprising commitment to where we live. In his life he set a fine example to our young people as they become citizens of our wonderful city.
Poppy Lawrence was announced the winner as she and her peers met with Mr Warburton and Mrs Cooney, but it was a tough decision to make. Nominations were put forward by each of the four House Senior Tutors. It was down to Mr Simon Warburton and Mrs Lis Every, on behalf of the Academy Council, to choose a winner:
Scott House - Martina Vitacolonna
Following a personal challenge of illness, Martina spent time raising money for the hospital that saved her life by making scrunchies and selling them. Alongside this, she worked extremely hard to achieve her Bronze and Silver Pledges Awards which includes activities to support the community. She embodies the House characteristics of resilience and endeavour.
Franklin House - James Homent
James is passionate about the environment and has harnessed the support of other students in an endeavour to make sure it is at the forefront of everyone's minds. He has worked hard within the Eco Warriors Session 6 Club at College and is a lead in the Eco Schools project. The group has come up with bright ideas to take care of the environment. He goes the extra mile for everyone and enjoys doing something special for the community - so successful is he that he was recently awarded the Child of Achievement in the recent Ely Heroes Awards.
Etheldreda House - Charlotte Beck
Charlotte is a great all-rounder, succeeding academically whilst loving sport and playing cricket to a high level. She uses her skills to coach others. She has worked on recycling projects and raised money for wild life. Charlotte has actively helped others whether it is delivering scones to self-isolating military personnel, raising awareness of the deaf community, or writing a piece for the local Quilt magazine on the experiences of students during the pandemic and how it has impacted on their lives.
Turin House - Poppy Lawrence
Poppy exemplifies the values that the House and school aims to instil in all young people. She has quietly and consistently shown support for the young people in the school, working tirelessly as a Mental Health Ambassador and helping to run the drop-in clinic. She has led by example and has had a really positive effect on this area of work. This is in addition to raising significant funds for charity during the lockdown period. As part of her work for the DfE, she has been writing letters to sick children in hospitals to show them that they have not been forgotten during this difficult time of restrictions on hospital visiting.
Clearly they are all winners, and we are lucky to have such exceptional young people taking the lead within college and going above and beyond in our wider community. Since we had to pick one winner, Poppy Lawrence took the win with the scope of her experiences and the consistency of community spirit she embodies daily.
Mrs Lis Every commented: "I am extremely honoured to have been asked to make this very difficult decision. Four outstanding young people have been nominated. All have shown many examples of the criteria we set both within the school, their House, and outside in the wider community. I am astonished at the level of support they have consistently shown to others, particularly during such a difficult period for themselves because of the COVID epidemic. Their resilience and care for others or passion for a cause is amazing. They are a real credit to themselves, their families and the school for the positive contribution they have made to their communities."
Mr Simon Warburton commented on their individual achievements: "I am very proud of the four students who have been nominated for the inaugural Mark Cooney Award. All four students clearly demonstrate the values of servant leadership, compassion and dedication to their passions. I am sure that Mark would have been thrilled to see the potential of our young adults within the Ely community. It was a very tough decision to choose one student from the nominations but both Lis Every and I felt that Poppy Lawrence in particular had stood out as embodying the values that the Mark Cooney Award will seek to support and encourage in future years."
Mrs Alison Cooney commented on the experience: "I was incredibly proud to present the very first Mark Cooney Community Spirit Award at Ely College. The four nominations were all deserving winners, such amazing young people. Congratulations to Poppy. I'm just sad that Mark couldn't present the first Award himself. He was moved to tears when Ely College staff told him they'd created it in his name, and completely speechless which didn't happen very often. I hope to build on this partnership with Ely College in the future with Spotted in Ely."