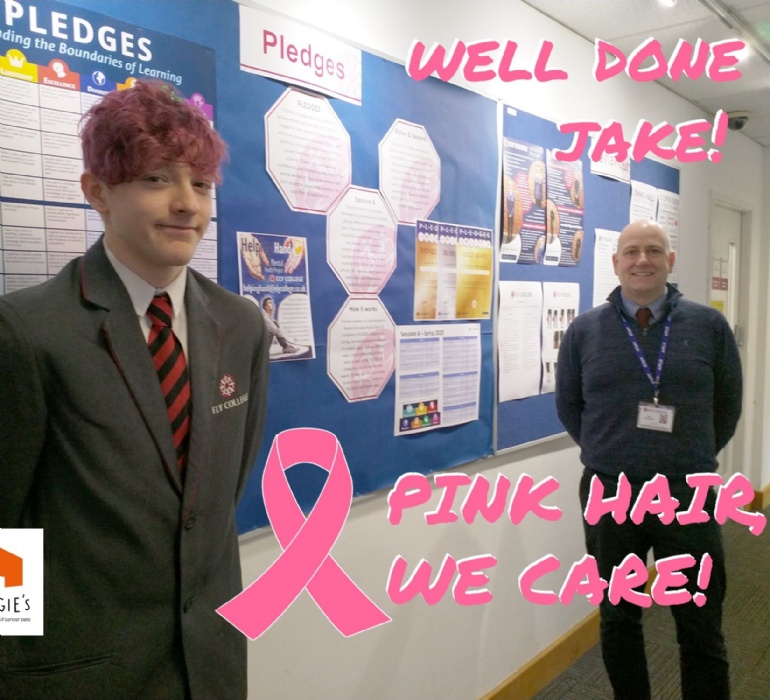 Well done to Jake who has raised an amazing £553 for Maggie's Cambridge!
Now then... YES it is true that Jake is a loyal member of Scott House... and YES Maggie's is the Turing House charity so you might have heard about how important they are to us as a cancer support charity.... BUT this was an independent fundraising effort from Jake. He did it for his Nan and like us, his Nan would be so proud!
With permission from the Principal and his Air Cadets CO, he got people to sponsor him to dye his hair PINK. It will wash out before he starts back at cadets in the new year but for now a HUGE WELL DONE to Jake for smashing his £100 target and kicking off our month of #giving! #PLEDGES #charities
Here's a reminder of what we have planned for December:
Taken from the weekly Bulletin newsletter: College charity work between now and the end of term
Normally we would be gearing up for one of the highlights of the school year, the Christmas Charity Fair. However, due to the nature of the restrictions we now find ourselves under we are unable to run it in a similar way as we have previously. We do still want to continue our charitable work as far as possible and so are planning two activities before the end of term.
Collection of food for local Foodbanks. Many people have struggled during the pandemic and the importance of foodbanks to our communities has never been more important. To this end we ask that if you are able to please donate items to the collection we are making. If students can simply bring in any items and leave in their year office we will do the rest. Although any items are appreciated there is a particular need for hamper based items, Fray Bentos pies, cereals, chunky soups and tinned rice pudding. Please don't send in any items that are perishable as we can't use them. The deadline for this is Friday 11th December and the collection opens on Monday 30th November.
Non uniform day, Friday 18th December. On the last day of term we will be having a non-uniform day in college. Any monies raised from this will be split equally between the 4 House charities. These charities are:
Etheldreda - Spectrum Cambridge
Franklin - C9 Teenage Cancer Trust Ward at Addenbrookes
Scott - Arthur Rank Hospice
Turing - Maggie's Cambridge
More information about these charities will be found in next week's bulletin. Obviously at the moment we cannot accept cash so donations need to be made on Wisepay. If you log into your account as normal, look for "Shop" and you will find an option called 'Non uniform day charity donation Friday 18th December'. This will go live on Monday 30th November. We ask that if you are able make a donation of £1 or more to support our local charities then that would be amazing. The day is a normal non uniform day and not a 'Christmas Jumper' day however it would be lovely to see as many students as possible in festive colours and attire (including festive jumpers if available). As we also want this to be a school community event all students can come dressed in non-uniform regardless if a donation has been made or not. Standard school advice on appropriate attire for non-uniform days is still in effect.