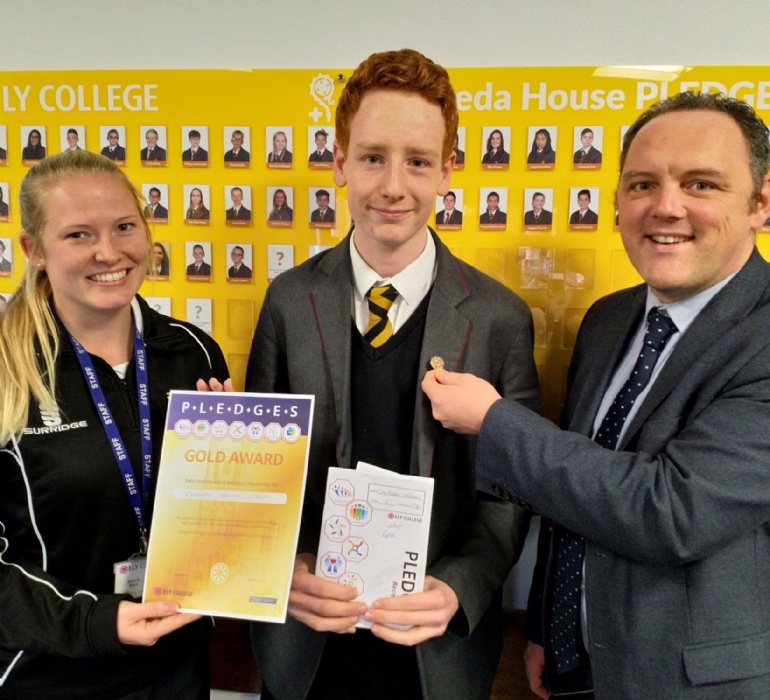 Reaching the Gold standard!
A hard working Etheldreda House student has become the first this year (and only the second ever!) to achieve a Gold PLEDGES accolade. Just 20 months since the school officially rolled out the reward and behaviour system at Ely College, the Bronze and Silver awards have been rolling in, but this is the only current Gold.
Christopher Atkinson in Year 10 took part in a number of activities to achieve his Bronze, Silver and Gold PLEDGES. These included taking up the role of Sports Leader in Year 9, fundraising (both for his House charity and via fun runs), being part of the archaeology dig trip, taking an extra GCSE in Latin, and even attending a Russian wedding!
Speaking about his achievement, Christopher said: "It has been hard work to meet the criteria but I have really enjoyed the challenge. Working towards my PLEDGES has taken me into new and different experiences. I like that something you do out of school like experiencing cultural diversity at a family friend's wedding can earn you PLEDGES in school. I'm going to push myself further and help others with their PLEDGES."
Adding to his PLEDGES points 'beyond the classroom' was the secret to his success, with things like his piano grading and youth leadership work via his local church, all counting towards Gold! He added: "The Gold PLEDGE means a lot but I have always tried to give back to my community. Taking the lead on running holiday clubs with the church and putting myself forward for form representative in school means I can speak up for people my age."
Since Ely College joined the CMAT trust, the college has introduced a simple but broad set of PLEDGES that pupils are expected to complete during their time at the school, at bronze, silver and gold levels. The fact that Christopher has complete the set before Year 11 is very impressive. Students gain their PLEDGES through activities and work across seven categories: Participation, Leadership, Environment, Diversity, Giving, Excellence and Service.
The PLEDGES form part of the school's parallel curriculum – a system that is designed to develop the whole child and complement the academic courses. Similar to the Duke of Edinburgh scheme (also offered at Ely College!), it helps pupils develop character and skills that can be taken into their adult life.
Richard Spencer, Principal at Ely College said "The scheme has really helped drive a wide range of activities and improved relationships. It encourages students to give back to the school and their communities. Through PLEDGES, we can recognise, encourage and reward those important aspects of personal development and learning that examinations do not. I'd like to congratulate Christopher and look forward to giving out many more gold awards in the months to come".