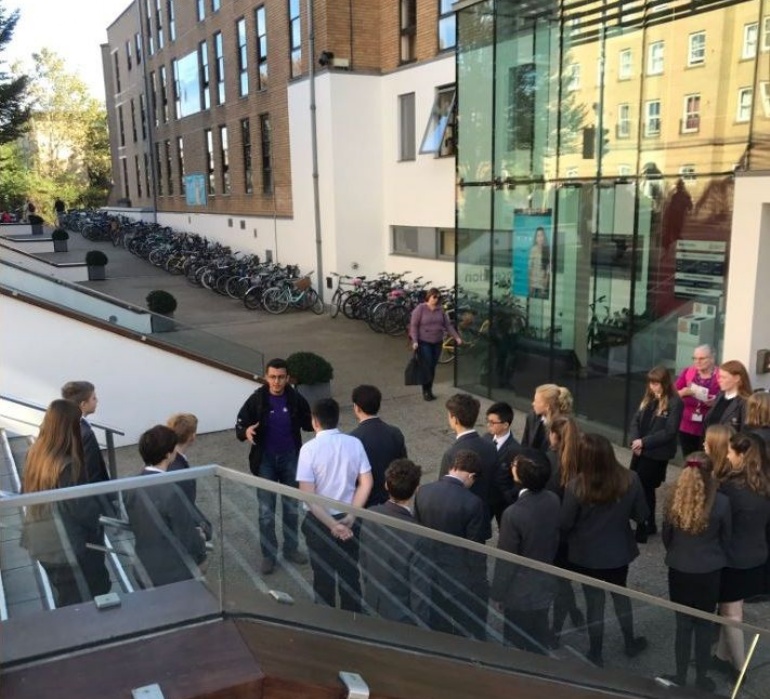 As part of PLEDGES and Futures Day, more than 180 Year 9 Ely College students took part in workshops and visited a local university to experience life at university first hand. Funded by the Department for Education through the Fenland and East Cambridgeshire Opportunity Area, the event was organised by Take Your Place.
'University in a day' was all about introducing the 13 and 14 year olds to the world of higher education, giving them information to help them form their own opinions on their futures. The day included a campus tour with current students at Anglia Ruskin University in Cambridge and four workshops back at school in Ely – led by Take Your Place staff and Ely College alumni.
Verity Allen, Higher Education Champion from Take Your Place and organiser of the day explained "For Take Your Place, the project is all about raising aspirations and uncovering hidden talents.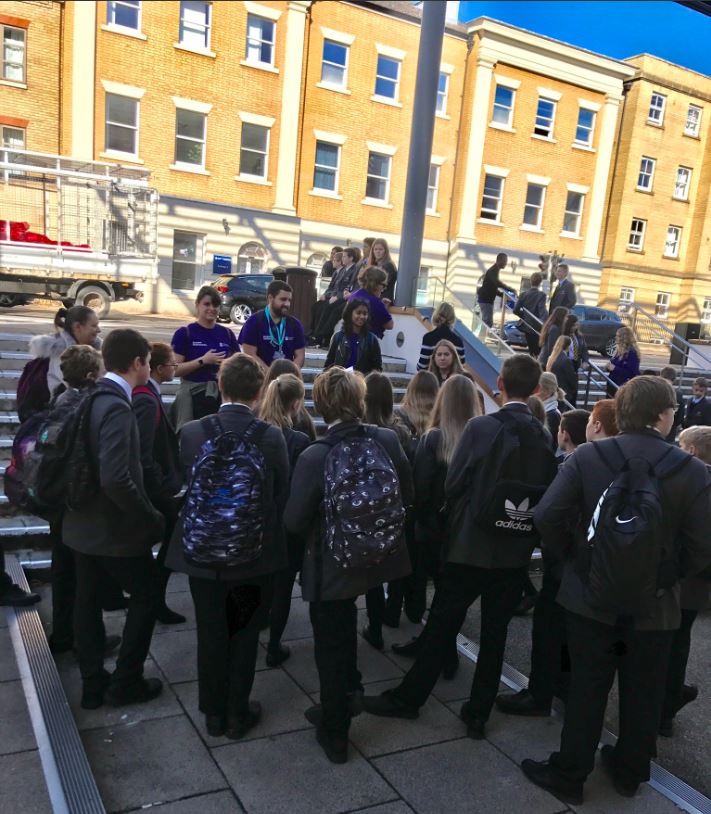 "We designed the workshops at Ely College to focus on topics surrounding course options using prospectuses. They also learned about the education pathways they can take from GCSE through to university or degree apprenticeship. We also had current Anglia Ruskin students in to talk about 'day in the life of a student' and past Ely College students explaining the routes they have taken since their time at school."
The students took advantage of having Anglia Ruskin student ambassadors on hand to ask far ranging questions about university. The most popular questions were about student finance and living independently. Some of the questions answered by the Ambassadors included, "What's the behaviour system like?", "Is it hard to settle when you first start?", "What's the social life like?" and "How do you pay for uni?"
Dr Norton-Berry, Assistant Principal at Ely College said "As a school in one of the Opportunity Areas we have been working closely with neaco for some time. This has allowed us to give our students many fantastic opportunities that would have otherwise been extremely difficult and expensive to deliver. The day that Year 9 just experienced is a case in point. Having the opportunity to see a university in action at this early stage in their secondary school journey is an invaluable opportunity – it gives some of our students who wouldn't otherwise aspire to attend university, the impetus and the drive to do so. My thanks go to all at neaco for the day which was brilliant."
Tricia Prichard, Chair of the Fenland and East Cambridgeshire Opportunity Area, said 'I want all pupils in the Opportunity Area to aspire to a bright future and fulfil their potential. I am delighted that we have been able to fund Take Your Place to help more young people explore the world of university and make informed decisions about their career options'.
The Fenland & East Cambridgeshire Opportunity Area has been identified by the Department for Education as a 'social mobility cold spot' and aims to improve social mobility by providing access to high quality education, training and employment.
Beka Avery, County Coordinator for Take Your Place Cambridgeshire and Peterborough explained, "We are engaged in a wide range of activities in schools and colleges across the region, all designed to have a long-term impact on higher education progression. This project is a great example of what can happen when schools, universities and like-minded organisations work together to showcase the many different opportunities on offer to help young people reach higher education."