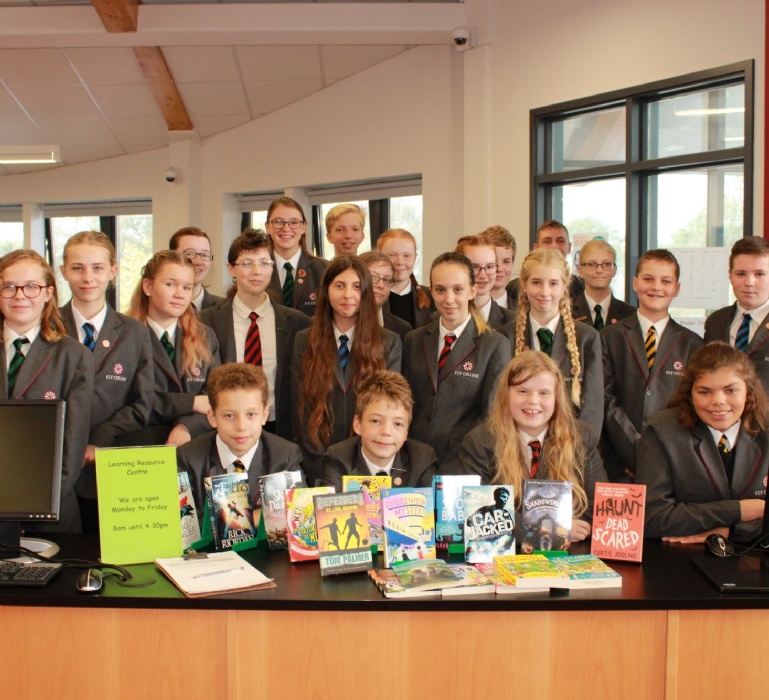 Students involvement in the running of our school library has never been so active. Mrs Shaw, our LRC Manager explains the work involved.
With the beginning of the new school year, we are pleased to present our fantastic new team of Student Librarians for 2018 / 2019. Students from Year 8 onwards can apply to join the team. After attending an interview and accepting the position, training can begin. Student Librarians work on the main LRC desk issuing and returning books, serving at the School Shop and often help to shelve the books. As well as these everyday duties a vital part of a Student Librarian's work is to support fellow students in the LRC with any queries: from searching for a book, to helping them access our dynamic online library system.
New recruits are trained both by Ms Shaw and the Senior Student Librarians. Younger students are overseen by more experienced Student Librarians. Training and learning from one another is a collaborative process the students certainly benefit from; as the Student Librarians grow in seniority and experience, so do their responsibilities. Team spirit is very important and as training progresses, the feeling of mutual support is wonderful to see.
Championing lifelong learning, our Students Librarians can often be found in the LRC quietly reading or encouraging lively debates in reading groups. They charge themselves with promoting everything the LRC has to offer, including computer spaces for homework catch-up. Our Student Librarians also undertake other projects such as competitions, literary polls and various fundraising efforts. Students who become Student Librarians use this experience to gain PLEDGES Points, which quickly build towards their Awards.
Watch this space for some exciting LRC initiatives coming up this term. Student Librarians are heavily involved in organising, selling and promoting the hugely successful Book Fair which takes place towards the end of the Autumn term – just in time for Christmas, so an ideal time to do some gift shopping for friends and family. Our 2017 Book Fair allowed the LRC to claim just over £200 of free books for the LRC. Student Librarians are also currently helping get ready for the school's Booked Up programme which will see every Year 7 student receive a FREE book during their first term at Ely College. More about this soon so keep an eye out for our next newsletter.