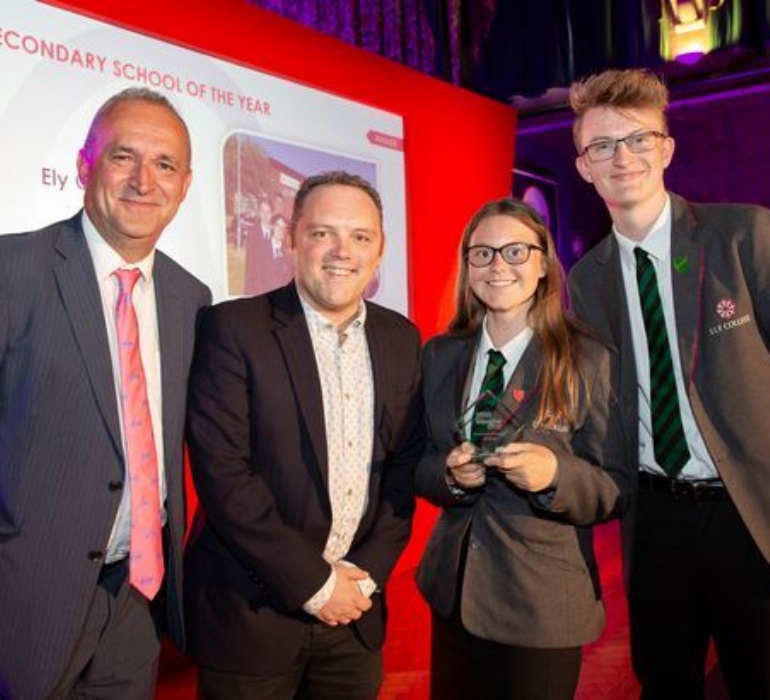 Every year, the Cambridge Evening News host the prestigious Cambridge Evening News Education Awards, where schools and individuals can be nominated for a variety of awards, celebrating excellence across the county.
We are pleased to announce that two CMAT schools were shortlisted for the Secondary School of the Year award this year. Ely College and North Cambridge Academy were both shortlisted, along with one other school, with Ely College taking the award home on the night. This is the second time North Cambridge Academy have been shortlisted for the award since joining the Trust, with them taking the title in 2016.
To be shortlisted, secondary schools needed to demonstrate that their pupils have been not only academically successful but have developed more broadly, through an inspiring range of activities, subjects and experiences.
In their full report, the Cambridge News said: "Ely College has had a challenging few years, with changes in leadership and a poor reputation – but what hasn't changed is the unwavering dedication of the staff and the desire to support the children.
"Under Richard Spencer's leadership the school has now completely changed, and is thriving. Results are massively improved but more importantly, the school is a place children want to go to, where they feel supported, valued and part of a very special community.
"The smart new uniforms, the massive improvements in exam results and the community opinions of the college have been fantastic. It's great to see so many families making their community school their first choice again."
Ely College's science department were also shortlisted for the 'Science Project of the Year' award for their Science Festival earlier this term. It was a fantastic collaborative event which invited primary schools and parents to visit and celebrate the hard work students had put into their science projects.
It is fantastic to see the hard work and dedication of our schools being recognised regionally for their excellence and the opportunities we provide to their students. Huge congratulations to all our staff and students!