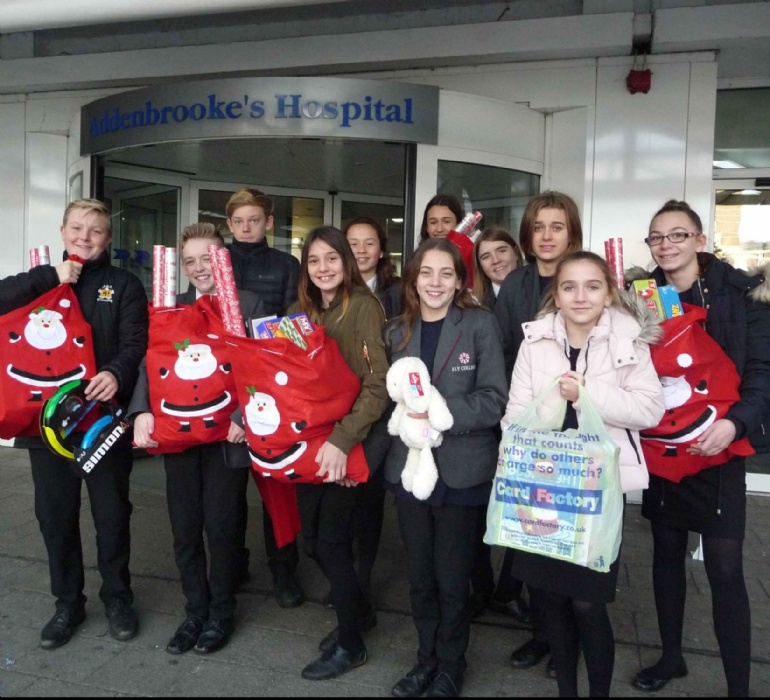 Ely College students visit children and teen cancer wards after an epic '12 Hours of Sport'.
Twelve students from Ely College were selected to be part of a special trip to Addenbrooke's Hospital today (19th) to offer holiday cheer and gifts to children on the cancer wards after sweating for 12 hours to raise money.
The students all participated in the '12 Hours of Sport' event, which gives Key Stage 3 students at Ely College the opportunity to raise money on behalf of the Malcolm Whales Foundation (MWF).
Students arrived at the college before 7am and worked solidly for 12 hours in the gym and fitness suite, raising over £2000. Staff were very impressed with the dedication and effort shown, but also the leadership qualities that shone through on the day as students supported each other and steered their own pace to keep each other motivated. Mr Patman, PE teacher at Ely College and trustee of the MWF said "While we like to keep it interesting for them by facilitating games and different sports, this year students really stepped up and worked exceptionally well together."
For going above and beyond, twelve students were invited to take £500 of the money raised and become elves for the day. They visited the C2 children's oncology and haematology ward in Addenbrooke's to deliver sacks full of presents, board games and puzzles that would benefit the ward for months to come and help to put a smile on poorly children's faces this Christmas.
Year 9 student, Josh Lawrence, said: "A lot of kids are going through painful treatment now so they can spend recovery time at home for Christmas. It was nice to play a game of Connect 4 with them and put a smile on their face. They were so grateful for the gifts, as were the nurses at Addenbrooke's."
Ely College will continue to cherish their link with the Malcolm Whales Foundation and we look forward to next year's fundraising efforts with the Dorset Walk in July. Any other local schools keen to join us for our 12 Hours of Sport 2018, are welcome to contact Mr Patman via the college.