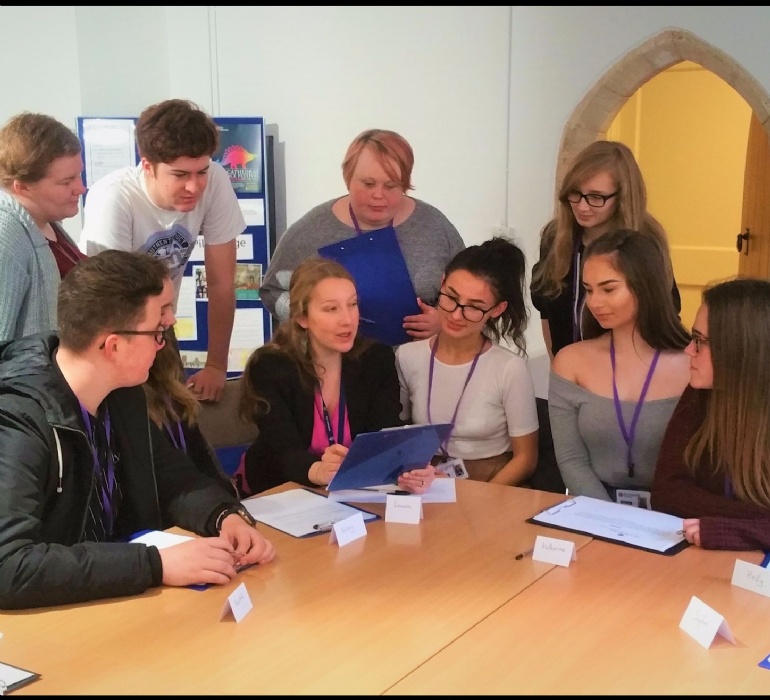 Bishop Laney Sixth Form's newly appointed Student Council visited Ely Cathedral on Wednesday for the first stage of training in their new roles.
The Student Council visited the Cathedral as its staff set up for the annual Christmas Food Fair. During their visit, students gained an insight into the steps of organising and running a large scale event, gaining skills they can now implement as they organise future events at Bishop Laney Sixth Form.
During the day, the Student Council saw each stage of setting up and the importance of teamwork in creating a successful event. They took part in a mock committee meeting, where they were able to help make important decisions and learnt to consider different viewpoints. They also learnt how to take responsibility as a team for organising and planning an event, the etiquette of working in a team and had an introduction into the types of functions that can be run.
Adam Steels, leader of Bishop Laney Sixth Form said: "We are delighted to have been able to re-establish the Student Council at Bishop Laney Sixth Form this year. We feel it is a vital aspect of the student experience and provides the opportunity for the students involved to take responsibility and organise events, benefitting not only their fellow students, but the Sixth Form as a whole and the wider community.
"The time the students invest and the skills they develop are recognised through the PLEDGES Plus Scheme we run at Bishop Laney Sixth Form. The scheme recognises students for their involvement in extra-curricular activities which enhances their employability and the skills needed at university."
Sydney Owen, Chair of Bishop Laney Student Council said: "We would like to thank Ely Cathedral for inviting us along for the day. It was really informative and hands-on and we have learnt so much that we can use in the planning and hosting of our own events at Bishop Laney Sixth Form. It has really helped us to bond as a team and we are excited for the year ahead where we will be working with other students in the school to organise a calendar of events they would like to take part in."
The council comprises of 10 representatives with responsibility for a range of areas including student support and welfare, as well as coordinating students' charitable contributions.
Bishop Laney Sixth Form is now taking applications for its September 2018 intake. They offer a range of A Levels, technical, applied and professional qualifications at Level 2 and Level 3. If you would like to find out more information about the Post 16 provisions on offer at Bishop Laney, please contact reception on 01353 652818 or visit the website www.bishoplaney.org