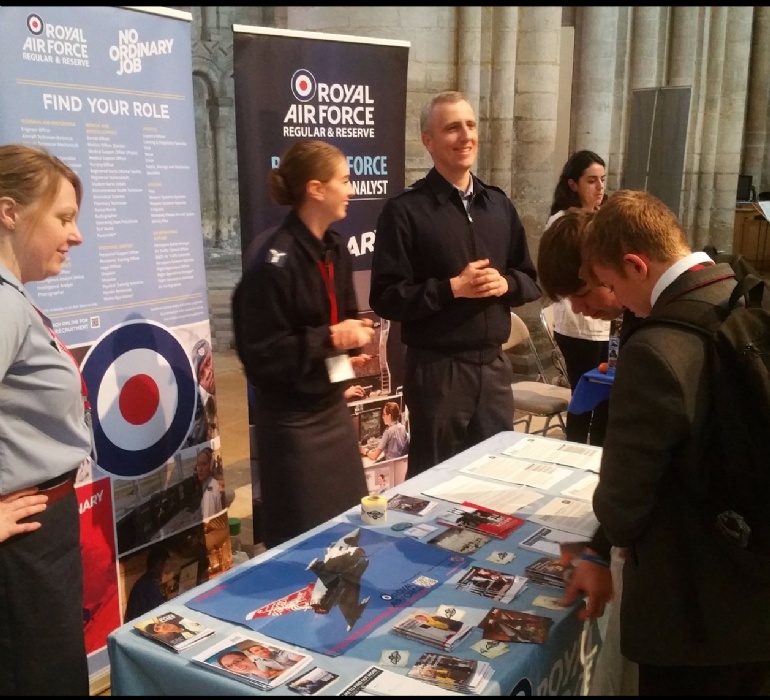 Following from the success of last year's event the East Cambs Careers & Skills Fair returned to Ely Cathedral on Tuesday 10th October. Now in its fourth year, the fair has continued to grow and draw attention from local schools and businesses alike.
Schools from all over the district got involved this year. We saw pupils from the North Cambridge Academy, Witchford Village College, Soham Village College, Ely College and Kings Ely attend.
This year there was also an interactive area specifically focused on apprenticeships where students could learn more about the wide range of opportunities and support available to them for this career route. This was located under the impressive Octogan at Ely Cathedral.
Nicki Pritchett from Ely College, who helped organised this fantastic event, said: "The skills fair provides our students with the chance to really explore some of the many options available to them after they leave school. Getting to put names and faces to some of the biggest employers in the district is really helpful and events such as this one help to build really good connections".
We are already planning for next year! There will be opportunities for businesses to exhibit at the fair and to get in front of local students. Businesses are encouraged to contact Economic Development Team at East Cambridgeshire District Council for exhibiting and sponsorship opportunities via darren.hill@eastcambs.gov.uk. You can also speak to Rebecca Sussex at The Skills Service about the event on 07931 206624 or via rebecca.sussex@theskillsservice.co.uk.
This year's fair was kindly sponsored by Thorlabs with West Suffolk College sponsoring the Apprenticeship Area, Shearline Precision Engineering sponsoring transport and Tesco Ely sponsoring refreshments.
Councillor Lis Every said: "The last event provided a great opportunity for both employers and young people to take time out of their normal routine and focus on the future. We hope that businesses will get to meet potential employees and students are able to explore the many opportunities for employment in the district. We are proud to be involved in the event, which echoes the council's priority for East Cambridgeshire to continue to be a place where people want to live and work."
Rebecca Sussex from The Skills Service said "Skills fairs such as this offer both young people and businesses fantastic opportunities to network and make connections. There are so many different avenues that young people can take post school and these Skills & Careers fairs demonstrate that".
Supported by our partners: