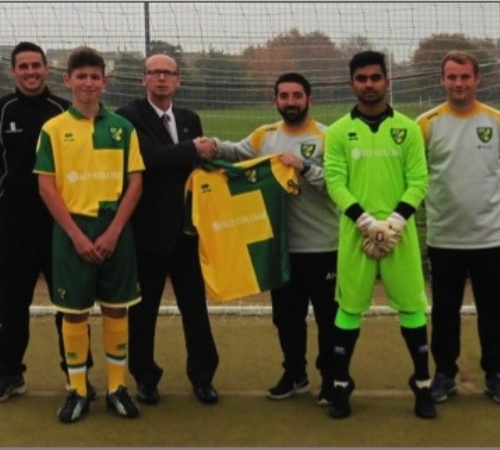 IN TIME FOR SCHOLARSHIP LAUNCH
Alex Kaufman, Norwich City's Regional Development Manager handing over the new kit to Mark Sirot-Smith, Director of Sixth Form at Ely College. Also pictured are Jason Coe (Head of PE), Pip Davis (NCFC Football Development Officer) and NCFC scholars Alex Brown and Risheet Lal.
The Norwich City Football Club Scholars at Ely College took delivery of their new kit as they prepare to kick off their season.
The scholarship programme gives talented local footballers the opportunity to train and play football at a high level whilst continuing with their education.
It is an ideal opportunity for any young players interested in developing a career in sport and can lead into professional or semi-professional football, football scholarships abroad or sports science courses at university.
The scholars study for a Level 3 Sport qualification, which is worth three A levels, whilst receiving specialist coaching from UEFA B coaches and representing Norwich City in the English Colleges League, in addition to regular opportunities to train at the Carrow Park training complex in Norwich.
If you are in Year 11 and interested in the programme please contact Pip Davis, Football Development Officer for Cambridgeshire at pip.davis@canaries.co.uk for more details and future trials dates.