Coronavirus Information
Coronavirus policies, procedures and protocols specific to Ely College are listed below. If you can not find a specific policy, please contact the College.
CMAT's full summary of updates and policies can be found on the usual CMAT Coronavirus link here:
September 2021 Update
Welcome back! In line with government guidelines masks are no longer mandatory. We continue to review our Covid measures and risk assessment on a regular basis.
We have been notified that the School Age Vaccination Service will be on site on the 1st October to vaccinate consenting students aged 12-15. Please click through here to find out more, including the letter home, NHS information & government link:
March 2021 Update
These guides supporting students with anxieties about returning to school should be helpful:
Updated guidance around masks: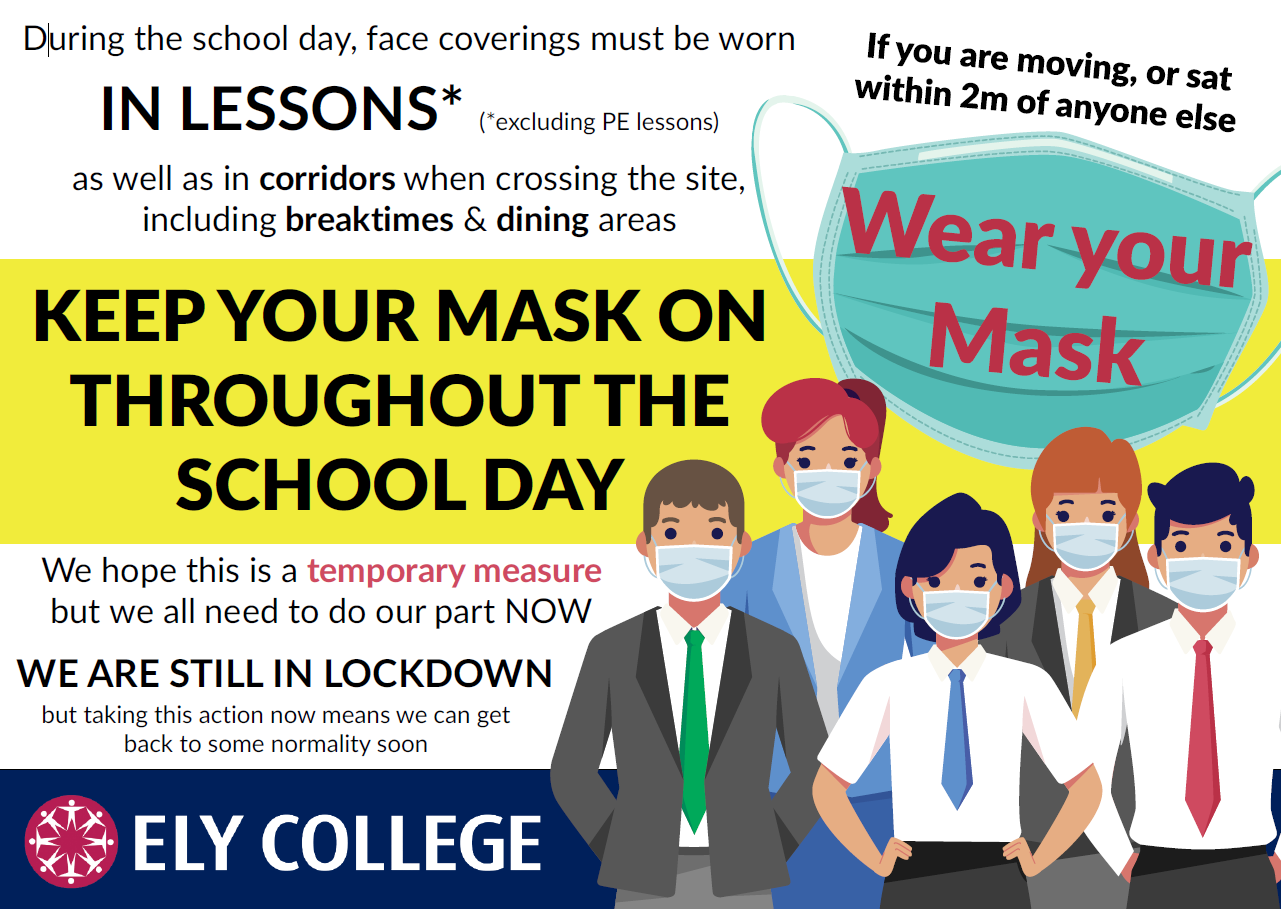 December 2020 Update
In order to help us support you and to ensure that we can plan effectively for the start of the Spring term – please follow the procedures set out below.
If any student, parent or sibling, within the family bubble develops symptoms relating to COVID-19 then please urgently request a test by calling 119 or by clicking on the COVID Test Booking Link below. Please do not use home tests - they take a long time to be returned and prevent urgent follow action from being taken.
Please pay particular attention to any of the symptoms listed below.
Fever or chills
Cough
Shortness of breath or difficulty breathing
Fatigue
Muscle or body aches
Headache
New loss or altered taste or smell
Sore throat
Congestion or runny nose
Nausea or vomiting
Diarrhoea
If the test result comes back as positive then please notify us as soon as possible on the email link below. This link will be monitored across the full Christmas break. We would be grateful if you could include the following details in your email.
Date test taken
Date of the onset of symptoms and what those symptoms were to trigger a test being sought
The dates of the self-isolation from start to finish
You will be contacted within a maximum of 48hrs to discuss the result and any possible implications for others or the planned return to college.